Charlie Sheen Tutorial
Below I'll describe from start to finish the stages I went through to create this Charlie Sheen caricature for Australian FHM magazine. This is more of a step-by-step rather than a tutorial but you should get some idea about my creation process. To cap it off at the end there's an animated gif of the painting.
1. ROUGHS
I started off with a quick caricature of Sheen just to warm up and get familiar with his features so I could sketch him from memory in the next stage.
I only did one initial rough to show the client as I had a clear idea in my head of what I wanted to do, so doing more roughs seemed like shooting myself in the foot. Saying that, I was fully prepared to sketch up more ideas if the art director requested it. Luckily for me though, he liked this idea but asked me to crop in tighter so Sheen's face was more in the centre and there wasn't so much emphasis on his hair.
Above is the cropped rough and below is the approved refined pencil rough going for a better likeness. I knew I was on the right track with the likeness when my six year old saw it and started singing the 'Two and a half men' theme tune.
2. GIRLS, GIRLS, GIRLS!
I forgot to mention, the reason the art director
was
so quick to approve the first rough was due to an idea I wanted to explore with the Sheen caricature.
The Sheen article in the mag was about Sheen's womanising, drug taking and sometimes violent tendencies (and how he still manages to be a big, bankable star). So, the idea was to have Sheen's facial features made up of a mass of writhing female bodies which shaped to the contours of his face. Being FHM magazine, incorporating women into the pic would have been appropriate (and most likely appreciated by the readership). But, I always stressed to the art director that there was a chance that I wouldn't be able to pull this idea off (and quite obviously I wasn't) and that if I thought doing this would mean sacrificing the Sheen likeness then it would be abandoned (and it was). But here is an indication of how it could have looked if I had more time, more skill, and as the next step will show, better photo reference...
3. REFERENCE...or lack thereof.
There were three reasons why this job was tough enough without the added difficulty of incorporating a sea of women into his face.
The problem was the approved sketch I drew of Sheen wasn't based on an existing photo. I didn't have a) a photo of Sheen with his head at that exact angle, b) with that expression and most of all c) with that dramatic underlighting. If I
did
have all three of those I probably would have been more confident about doing the women, but I was facing an uphill battle as it was.
I'd gathered a mass of photo ref of Sheen from the internet, some had the expression I wanted but not the angle, and vice versa. So during painting I went back and forth amongst the multiple photos to make sure everything was right with the likeness.
Those with sharp eyes will notice a Kruger caricature of Steve McQueen in amongst the reference. This was there for inspiration.
For lighting I posed a Dazstudio 3D model in Zbrush so I had accurate reference for the sinister underlighting I was after.
4. ...AND THE REST.
I thought about a few different ways of approaching this painting. One was my usual way of doing a detailed shaded pencil to give a good foundation, but I was feeling brave so I decided to start painting right over the top of my approved sketch.
This was all painted in Photoshop. The smudge tool was used to blend the rough sketch lines into the colour, then I just built the detail up from there using Photoshop brushes and my custom texture brushes. The animated gif below should give you a good indication of the painting process.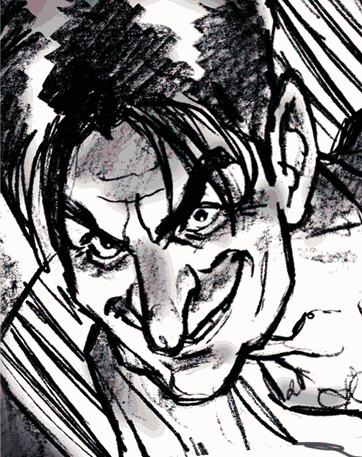 Hope this was insightful. Any questions let me know. Enjoy!